In the fast-paced and fashion-forward city of Dubai, presenting a polished and pristine appearance is essential in both personal and professional settings. However, not all fabrics can withstand traditional washing methods. This is where dry cleaning services step in to preserve the quality and beauty of delicate garments. If you seek the best laundry service in Dubai, look no further than Instacare Laundry, where we take pride in offering specialized dry cleaning services that ensure your cherished clothing and fabrics receive the utmost care.
Why Choose Instacare Laundry for Dry Cleaning?
At Instacare, we believe that your garments deserve the highest level of attention and care. Our commitment to excellence, unmatched expertise, and dedication to customer satisfaction set us apart as the go-to dry cleaning service in Dubai. Here are the reasons why you should entrust your delicate fabrics to Instacare Laundry:
Experienced Professionals: With a team of skilled professionals, we possess extensive knowledge of various fabrics, ensuring your garments receive the best treatment and cleaning methods.

State-of-the-Art Technology: Instacare Laundry utilizes advanced dry cleaning equipment and eco-friendly solvents to remove stains, dirt, and odors without causing any damage to the fabric.

Convenient Services: We understand your busy schedule, which is why we offer seamless pick-up and delivery options, allowing you to enjoy the convenience of our services from the comfort of your home or office.

Personalized Attention: Every garment is unique, and we treat it as such. Our experts carefully examine each piece, tailoring the cleaning process to suit its specific requirements.

Affordable Luxury: Quality dry cleaning should be accessible to everyone. At Instacare Laundry, we offer competitive pricing without compromising on the excellence of our services.
The Instacare Dry Cleaning Process
When you choose Instacare Laundry for dry cleaning services in Dubai, your garments are in safe hands. Our meticulous dry cleaning process includes the following steps:
Garment Inspection: Our experienced team inspects each item to identify stains, spots, and any special requirements for cleaning.

Pre-treatment: Stubborn stains and spots are pre-treated with eco-friendly solutions to ensure effective removal during the dry cleaning process.

Dry Cleaning: Using state-of-the-art equipment, your garments undergo a gentle yet thorough dry cleaning process, eliminating dirt, odors, and bacteria.

Finishing Touches: After dry cleaning, our experts meticulously press and finish your garments, ensuring they look as good as new.

Quality Check: Before returning your garments, we conduct a detailed quality check to ensure they meet our high standards of cleanliness and excellence.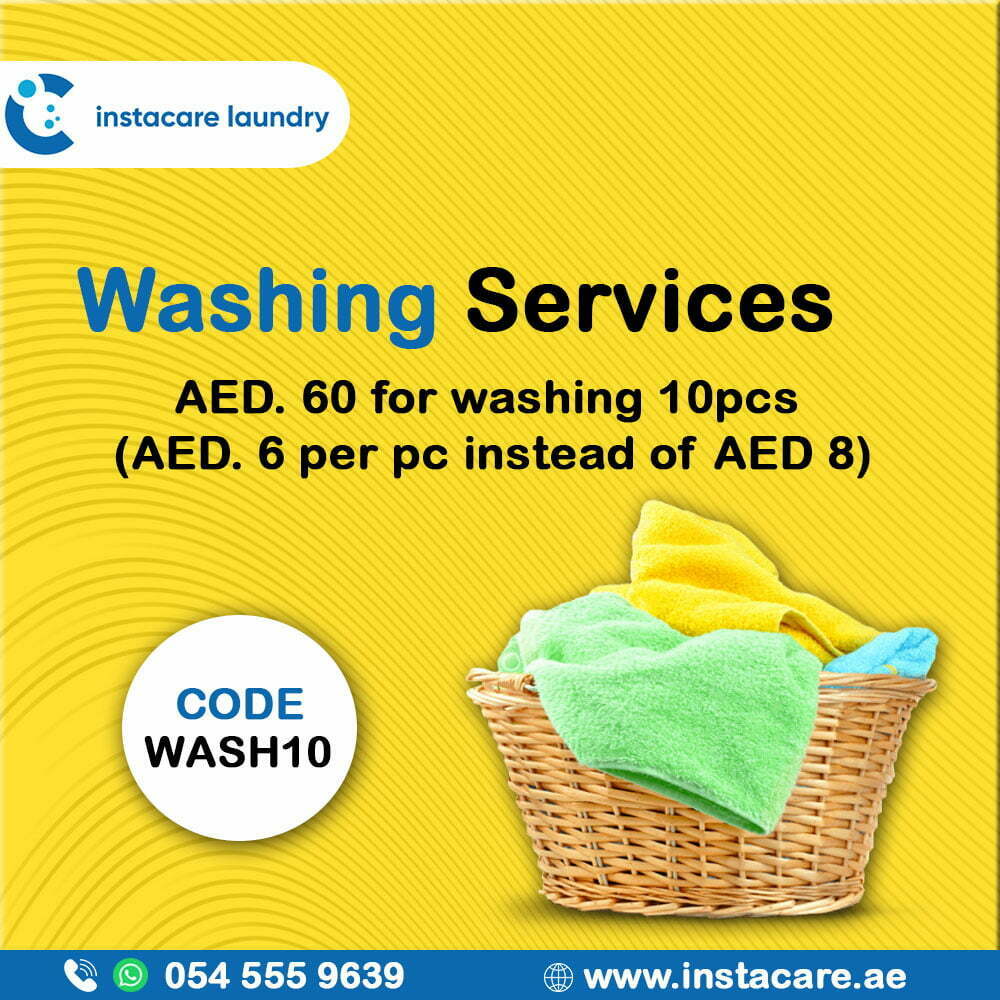 Customer Testimonials
"Instacare Laundry's dry cleaning service in Dubai is exceptional! They were able to remove a stubborn wine stain from my favorite dress, and it looks like it did when I first bought it." – Sarah, Dubai Marina.
"I highly recommend Instacare for their dry cleaning services. The convenience of pick-up and delivery made it so easy, and my suits came back perfectly cleaned and pressed." – Ahmed, Business Bay.
With Instacare Laundry's premier dry cleaning services in Dubai, you can trust that your cherished garments and delicate fabrics are in the best hands. Experience excellence, convenience, and affordability, all under one roof. Trust the best laundry service in Dubai to provide your clothing with the care it deserves. Schedule a pick-up today and enjoy the luxury of freshly cleaned and perfectly pressed garments with Instacare Laundry. #InstacareLaundry #BestLaundryDubai #DryCleaningDubai #PreservingElegance #ExperienceExcellence