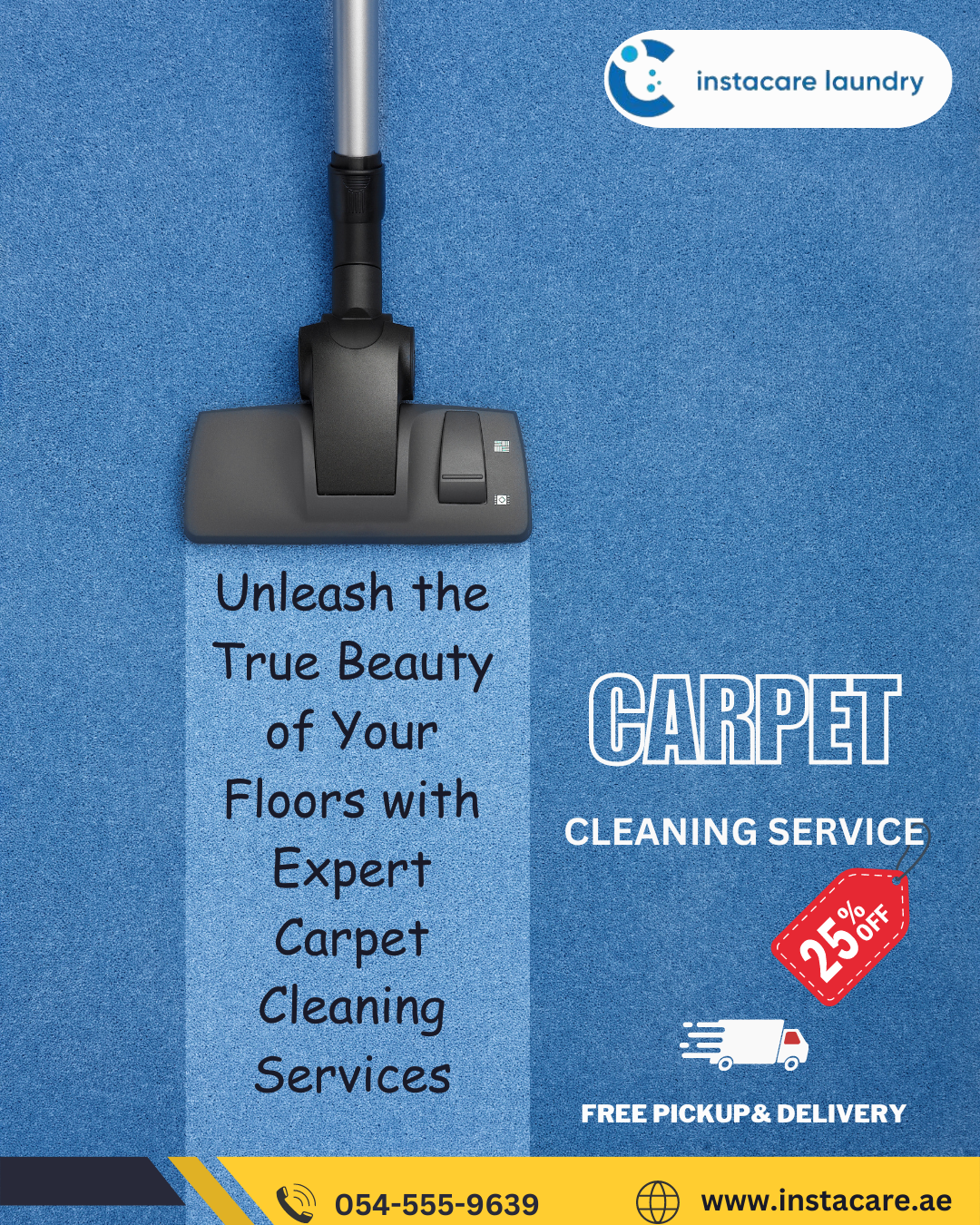 Carpets play a significant role in enhancing the beauty of homes and offices in the vibrant city of Dubai. Over time, they tend to accumulate dirt, dust, stains, and allergens, diminishing their appeal and affecting indoor air quality. Fear not, for Instacare Laundry, the best laundry service in Dubai, is here to provide specialized carpet cleaning services in Dubai. Experience the magic of professionally cleaned carpets that can transform your living spaces and breathe new life into your home.
Why Choose Instacare Laundry for Carpet Cleaning Services?
Instacare takes immense pride in being a leading name in the laundry industry, making us the ultimate choice for carpet cleaning services in Dubai. Here's why you should entrust your carpets to us:
Extensive Carpet Knowledge: With years of experience in carpet cleaning, our skilled professionals are well-versed in handling various carpet materials and understanding their specific cleaning requirements.

Advanced Cleaning Technology: Instacare Laundry employs cutting-edge cleaning equipment and eco-friendly products that effectively remove dirt, stains, and allergens while being gentle on the carpet fibers.
Convenient Pick-up and Delivery: We value your time, which is why our carpet cleaning service offers hassle-free pick-up and delivery, ensuring a seamless experience for you.

Tailored Cleaning Solutions: Each carpet is unique, and we treat them as such. Our team customizes the cleaning process to suit your carpet's fabric, ensuring optimal results without causing any damage.

Affordable Pricing: Quality carpet cleaning shouldn't be a luxury. We offer competitive pricing to make our services accessible to all, without compromising on quality.
The Instacare Carpet Cleaning Process
When you choose Instacare Laundry for carpet cleaning services in Dubai, meticulous care and attention to detail await you. Our carpet cleaning process includes the following steps:
Thorough Inspection: Our experts thoroughly examine your carpets to identify any stains, spots, or problem areas that need special treatment.

Pre-treatment: Stubborn stains and spots are pre-treated with eco-friendly solutions to ensure easier removal during the cleaning process.

Deep Cleaning: We use advanced cleaning equipment to deep-clean your carpets, extracting embedded dirt and allergens from the fibers.
Stain Removal: Our skilled technicians work diligently to remove even the toughest stains, revitalizing the appearance of your carpets.

Drying and Final Touches: After cleaning, we ensure your carpets are adequately dried to prevent mold and mildew growth. We also groom the carpets to restore their original texture and appearance.

Quality Assurance: Before returning your carpets, we conduct a thorough quality check to ensure they meet our highest standards of cleanliness and freshness.
Customer Testimonials
"Instacare Laundry's carpet cleaning service in Dubai is unparalleled. My old, stained carpet looks brand new after their expert treatment. I'm amazed at the results!" – Aisha, Dubai.
"I highly recommend Instacare for their exceptional carpet cleaning services. The pick-up and delivery were seamless, and my carpets are spotless. Thank you, Instacare!" – Ahmed, Jumeirah.
With Instacare Laundry's premium carpet cleaning services in Dubai, you can transform your living spaces and enjoy the comfort of clean, fresh carpets. Trust the best laundry service in Dubai to handle your carpets with utmost care and professionalism. Schedule a pick-up today and experience the magic of professionally cleaned carpets that breathe new life into your home. #InstacareLaundry #BestLaundryDubai #CarpetCleaningDubai #FreshLivingSpaces #TransformYourHome