In the bustling city of Dubai, where fashion and style reign supreme, a well-maintained pair of shoes can make all the difference. However, our favorite footwear often faces the brunt of everyday wear and tear, losing their charm and cleanliness over time. Fear not, for Instacare Laundry, the best laundry service in Dubai, is here to cater to your shoe cleaning needs! Our specialized shoe cleaning service in Dubai will revitalize your footwear, ensuring you walk with confidence and style.
Why Choose Instacare Laundry for Shoe Cleaning?
At Instacare, we take immense pride in being a leading name in the laundry industry. Our commitment to excellence, unmatched expertise, and dedication to customer satisfaction make us the ultimate choice for shoe cleaning services in Dubai. Here are some reasons why you should entrust your precious shoes to us:
Expert Shoe Care: With years of experience in the field, our skilled professionals possess in-depth knowledge of various shoe types, materials, and cleaning techniques. Your shoes are in the hands of experts who know how to handle them with care.

Cutting-edge Cleaning Technology: Instacare Laundry uses state-of-the-art cleaning equipment and environmentally friendly products to ensure your shoes are thoroughly cleaned without any damage to the fabric.

Convenience at Its Best: We understand the value of time, which is why our shoe cleaning service offers utmost convenience. Simply schedule a pick-up, and our team will collect your shoes from your preferred location. After the cleaning process, we'll deliver them back to you, ready to hit the streets with a renewed sparkle.

Personalized Attention: Each pair of shoes has its unique cleaning requirements. We pay close attention to detail and tailor our cleaning process to suit the specific needs of your footwear.

Affordable Pricing: Quality shoe cleaning should not break the bank. At Instacare Laundry, we offer competitive pricing to ensure that you receive exceptional service without compromising your budget.
The Instacare Shoe Cleaning Process
When you trust your shoes to Instacare Laundry, you can rest assured that they will receive the finest treatment. Our shoe cleaning process includes the following steps:
Inspection and Pre-treatment: Our experts thoroughly inspect your shoes, identifying any stains or marks that require special attention. We apply gentle pre-treatment to address these issues effectively.

Cleaning and Deodorizing: Using the latest cleaning technology and eco-friendly detergents, we wash, scrub, and deodorize your shoes to eliminate dirt, odors, and bacteria.

Drying and Polishing: We ensure that your shoes are dried properly, keeping their shape intact. The final touch involves meticulous polishing to restore their shine and luster.

Quality Check: Before returning your shoes, we conduct a comprehensive quality check to ensure they meet our high standards of cleanliness and excellence.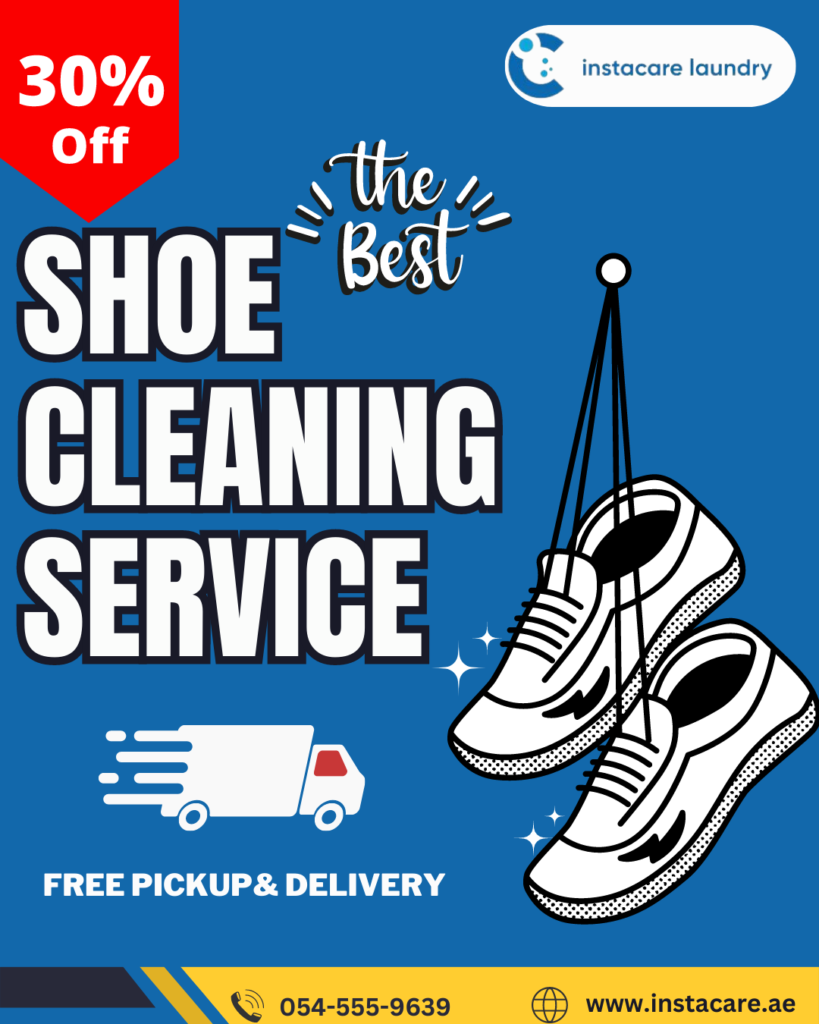 Customer Testimonials
"Instacare Laundry's shoe cleaning service in Dubai exceeded my expectations. They managed to remove stubborn stains from my favorite leather shoes, making them look brand new again!" – Fatima, Dubai.
"I couldn't be happier with the results of Instacare's shoe cleaning service. The pick-up and delivery were seamless, and my sneakers came back spotless and smelling fresh." – Ahmed, Downtown Dubai.
With Instacare Laundry's exceptional shoe cleaning services in Dubai, your footwear will get a new lease on life. Step into freshness and walk confidently with your revitalized shoes. Trust the best laundry service in Dubai to give your beloved shoes the care they deserve. Schedule a pick-up today and experience the difference! #InstacareLaundry #BestLaundryDubai #ShoeCleaningDubai #WalkWithConfidence #StepIntoFreshness